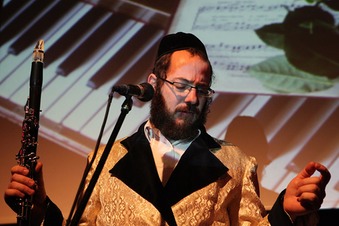 Founded by Avraham Leib Burstein, the Jerusalem Klezmer Association is both the springboard and home to many talented musicians who find meaning and expression of their soul through traditional Jewish Klezmer music.
With its artistic copiousness and its distinctive sound, Klezmer music is unique, easily recognizable and widely appreciated, both by 'ethnic insiders' and by larger audiences, all around the world. Klezmer music is also an invitation to dance and is undergoing a true revival.
Klezmer music and Yiddish songs include a large repertoire in which the whole gamut of human emotions can be expressed, from joy to despair, from devotion to revolt and from meditation to drunkenness, without forgetting Jewish humor and... love! 
Throughout the year, we arrange concerts, get-togethers and marches to share this uplifting music with all those who yearn to taste from it.
So join us, and enjoy!